Hate-post de frustrare pentru care bietele hidosenii nu au mare vina in afara de a-mi fi sarit in ochi in aceasta perioada delicata care a inceput de cateva saptamani si care va mai dura inca pe atat – un fel de PMS prelungit pentru care matineul de joi cu Miss Cornilescu (omg, e pe wikipedia!) ar fi nirvana tuturor sangerarilor posibile si nu.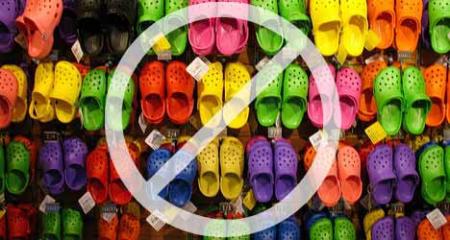 Daca ar fi sa ne luam dupa capacitatea autohtona usor intarziata de a urmari "tendintele" din afara, vara asta ar trebui sa se produca explozia de crocs si pe la noi. Deja am dat peste niste exemplare intr-un magazin care incepe cu S, pretul nu mi s-a parut exagerat si de aici ingrijorarea… La pitzipoance stim sigur ca n-o sa prinda iar cum, sa recunoastem, ele sunt majoritatea, retrag ideea de explozie folosita mai sus. Totusi, I feel them, waiting, lurking… Din putinii pe care i-am vazut pana acum pe strada (4 perechi) si din descrierea lor, amatorii de crocs mi se par… vezi titlul. Thumbs up ca sunt odor-resistant si moi, cred ca i-as purta la mare. Thumbs down: all of the above.
Bonus – din disperare, unii au facut si un blog anti-crocs (sa fie in scop comercial, sa nu fie… pana una alta, eu ii sustin

) iar altii chiar ii interzic!